The U.S. Senate has once again decided it's A-OK to let terrorists buy guns legally in the U.S.  Yes, you read that right.    You can be on the FBI's Terror watchlist and buy a gun in the U.S.  You can also be batshit crazy and/or have a history of harrassing and attacking women's health clinics.  Or you can be anybody, like a man with a history of domestic violence, and just show up to a gun show–no background check required!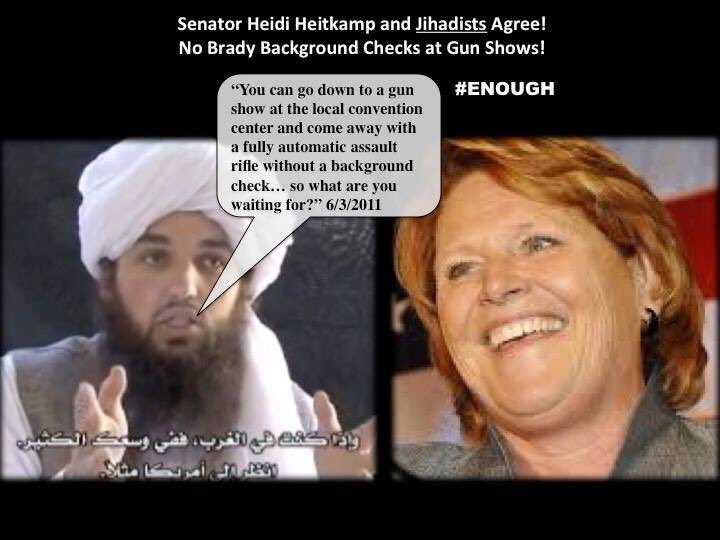 There have been 351 Mass Shootings in the first 334 days of 2015.  Note that doesn't include individual shootings–just "mass" shootings.   And all we're getting from our leaders is "thoughts and prayers".  I'm not saying don't pray.  That's your right to do so.  It probably makes you feel better, but it doesn't actually DO anything to address the gun violence in this country.  A true Christian demonstrates faith through deeds.  Words are not enough (Christ specifically said it wasn't enough to simply profess faith but one must engage in good works).
So while everyone is running scared of Muslims right now, please note that white extremists (domestic terrorists, our fellow citizens) have killed twice as many Americans as Jihadists since 9/11.  Twice as many.  But the right will demonize Muslims because "fear of the Other" is such great motivator for voting.  But it's not the Mooslims you need to fear…it's the white guy sitting next to you.  And for those of you who want to argue this, you can't.    FBI stats don't lie.  It is true for every type of violent crime–rape (twice as likely), assault, robbery, murder (4.6 times as likely), gange violence (53.3%) etc, etc.  If you're white, the odds of your attacker being white is significantly higher than being attacked by someone of a different color and/or religion.  But white folks don't see that because our white dominated media focuses so much on crime by other races against whites.  It makes sense that Americans don't think this is the case.  It's totally screwed up but that's the reality.
So America will continue to believe and fear that brown and black people and particularly those with a different religion are the real problem.   The innocent will continue to die and the grand experiment of our democracy will go out with a whimper drowned out by the cacophony of prayers by disingenuous and detached politicians and the rat-a-tat-tat of automatic machine guns.